What is the WITS Program?
The 
W

I

T

S

 Program teaches children strategies that help them make safe and positive choices.
Did your child bring home a card like this?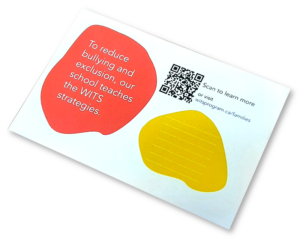 If so, this means that your child's school is one of the many schools using the WITS strategies to address bullying, discrimination, and other problems.
Walk away
Ignore
Talk it out
Seek help
In school, these are strategies taught to children to manage conflicts.
You have an important role too. When kids "use their WITS" at home, children have a phrase that is common both in and out of school. This helps children remember the WITS strategies, so they learn to solve some problems without assistance.
Here are some ways that you can support children.
Talk about the four WITS strategies
Tell stories or read books related to these themes, and discuss them with your children
After your child has a conflict, ask your child how they could have done things differently by using their WITS
Notice how others – in books, in real life, on TV – use WITS strategies to solve a problem
We encourage you to emphasize these strategies with your children.
The WITS Programs Foundation is a Canadian charitable organization working to ensure all children and youth can live, learn, and play in safe and caring communities.
Have questions? Contact Us.