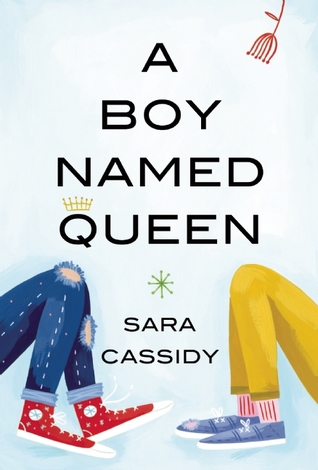 A Boy Named Queen
Summary: When the new boy in Evelyn's fifth grade class tells everyone his name is Queen, Evelyn doesn't know how the class will react.  She isn't even sure how she will react.  Queen wears shiny gym shorts and wants to organize a chess/environment club.  He seems to live by his own rules, and even the bullies don't faze him. 
Evelyn and Queen become friends, but sometimes she wishes he would just stop attracting attention to himself.  Yet Queen is the most interesting person Evelyn has ever met.  And when she is invited to his birthday party, she starts to discover some interesting things about herself, too. 
A funny, thoughtful chapter book from acclaimed author Sara Cassidy about unlikely friendships, mean kids, and a dog named Patti Smith. 
Author: Sara Cassidy is a journalist and editor and the author of ten novels for young readers, including A Boy Named Queen. Her books have been selected for the Junior Library Guild, and she has been a finalist for the Chocolate Lily Award, the Bolen Books Children's Book Prize, the Rocky Mountain Book Award, the Diamond Willow Award, the Ruth and Sylvia Schwartz Children's Book Award, the Manitoba Young Readers" Choice Award and the Silver Birch Express Award. Recently, Sara authored the picture book Helen's Birds, illustrated by Sophie Casson. She has also won a National Magazine Award (Gold) for a piece in Today's Parent. She lives in Victoria. 
WITS LEADerS Connection: Look and Listen, Explore Points of View 
Lesson Plan
Pre-reading questions: 
Look at the book cover of 

A Boy Named Queen

 and describe what you see.  

 
Class questions:  
Can you guess what the book might be about?

 

Have you read any other books about someone with an unusual name?

 

What are some of the challenges someone with an unusual name might face?

 
Conflict:  Stories are usually based on a conflict.  The conflict may be a problem to solve or a goal that the main character wants to reach. 
Types of conflicts in stories are: 
Person vs Person

 

Person vs Self

 

Person vs Nature

 

Person vs Society

 

Person vs Technology

 

Person vs the Supernatural

 
POST-READING QUESTIONS: Conflict and Feelings  
Who is the main character of the story and w

hat are

 the conflict

s

 in the story? 

 

Evelyn's feelings towards Queen changes over time.  

How does 

Evelyn

 feel

 

about Queen when he first arrived at the school

? 

How does she feel about Queen 

once some of the students in the school start teasing Queen?  How does she feel about Queen 

after attending his birthday party?

 

What things does 

Queen

 do that surprise others? 

 

How does 

Queen

 react

 when others make fun of him? 

 

Queen

 used a variety of strategies to deal with 

bullying behaviour 

at school

. 

What were they?

 

What lessons did

 Evelyn and Queen learn about friendship?

 

How are Queen's and Evelyn's families alike and different?

 

Can the way someone's friends or family treat them affect how they feel about wanting to d

o different things?

 

Can what someone learns in school or from watching television about the things boys and girls are expected to do, affect how they feel about wanting to d

o different things? 

 
Post Reading Question and Activity:  
Create a poster with the message of kindness.  

Were you nervous on your first day at school? Draw a pictu

re of a face showing how someone new to a school or a community might 

feel.

 

 

Add words 

with 

message

s

 of kindness 

to your picture 

to make someone feel more welcome and included.

 
This project has been made possible in part by the Government of Canada.  
Ce projet a été rendu possible en partie grâce au gouvernement du Canada